If you only need scales during inventory or peak-use periods, a Central Carolina Scale rental plan may be the right solution for you. You also save maintenance and storage costs while selecting the exact scales needed from our extensive inventory. We can help you choose the right scale choices for your individual rental requirements. The results will help you achieve an accurate and efficient physical inventory.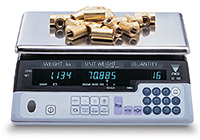 Central Carolina Scale offers a complete line of scales that are available for your rental needs. Counting scales are most often rented for quarterly or annual inventory. Parts inventory counting and weighing have never been faster or simpler than they are today. With our advanced digital counting scales, jobs that once took hours can now be finished in minutes. With advanced technology you can "electronically" count a large number of parts - from extremely light weight components like resistors to large bolts and castings. What's more, renting parts counting scales is economical, especially if you only need to use the scales a couple of times a year.

Your Benefits
Renting Parts Counting Scales from Central Carolina Scale save you time, money, and manpower during inventory periods. You benefit because they:
Eliminate the need for additional investment.
Eliminate scale maintenance, up-keep, and storage costs
Reduce the man hours required to count inventory.
Allow you to get your operation back to normal faster.

Excellent COUNTING Accuracy
Every counting scale that we rent was designed and manufactured to meet or exceed the Weights & Measures requirements of the National Bureau of Standards. We've been renting counting scales for years and years.... you can "count" on our reliable counting scales!
Rent Scale systems ranging from 1 lb. to 5,000 lb. capacities.
Piece Counting Scales
Count even the smallest pieces!
| | |
| --- | --- |
| 1000 lb. Portable Scale Units | 5000 lb. Floor Scales |
Other types of weighing units such as crane scale rental programs or wheel scales are available for rent as well, call for details...
Call today to set up an accurate and trouble free inventory this year!