Central Carolina Scale sells Used Scales and Weighing Equipment
Take advantage of these great deals while supplies last!
GSE 651 Series USED Digital Weight Indicator
(VERY LIMITED STOCK)
The GSE 651 (used models) is a sophisticated digital weight controller designed for demanding applications. The 651 series controllers are fully programmable and can be configured for virtually any application. Exceptional features include: statistical process, data acquisition and management, 128 programmable I/O with SCR control and advanced communications capabilities. These used 651's come standard with stainless steel enclosure, multidisplay board, and are AC powered. Each unit has been checked and is in good condition.
Optional items are also available. These may be purchased with the indicator or seperately. Each indicator can hold (1) multi scale board and (1) or (2) Analog/Current loop output boards (you would need the GSE options enclosure box if ordering the indicator with (2) analog/current loop output boards. Mounting brackets are optional and do not come standard with the unit. Click here for more
USED CANISTER LOAD CELLS
We have a large supply of used 50,000 lb capacity canister load cells. Models include Coti CP175, Cardinal CP1 and Revere Transducers CP. Constructed of painted steel or stainless steel and similar to the load cell models below.
Output: 1.75 mV / V
Bridge Resistance: 480 ohms
Capacity: 50,000 lbs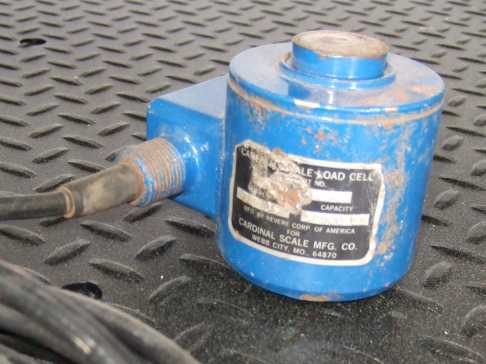 Load Cell Drawing Picture
* Artech 90210
* Streeter Amet 3751940
* Streeter Amet 3752030
* Streeter Amet 3752040
* Streeter Amet 3753070
* Howe Richardson 20908XXX
* Revere 392B
* Revere CP
* Cardinal CP1
* Totalcomp TCP1
* Coti CP-175
A&D FC 20K USED Counting Scales CAPACITY 50 lbs
Triple Display always shows weight, average piece weight & piece count for easy use
LED Display steps operator through the proper keys without a manual
The FC Series high resolution counting scale for sale provides easy-to-use, versatile weighing features for many applications. These rugged scales include detachable displays for greater flexibility in use.
AND Weighing's FC-series 50 lb. capacity used counting scales are durable for use in industrial weighing environments and are easy to use. Counting is as easy as just pressing two keys!
EXTREMELY LIMITED SUPPLY!
Call to place an order (919) 776-7737